On the second Friday of each month some of our classmates gather at the Magic Wok in LaGrange for a family style dinner and great conversation. All are invited and many out-of-towners pop in unannounced. This is a fun evening, you ought to try it sometime.

The Magic Wok has great Chinese American food, reasonable prices, and a full bar. For those of you who don't like Chinese (Tom Sprague and Barb Olsen) they have one of the best porterhouse steaks in the area.

They are located at 27 W Harris across the street from the old Coral. Reservations are not required. Just show up at 6:30PM.
Friday January 8th 2010
Goodbye to the Schaubs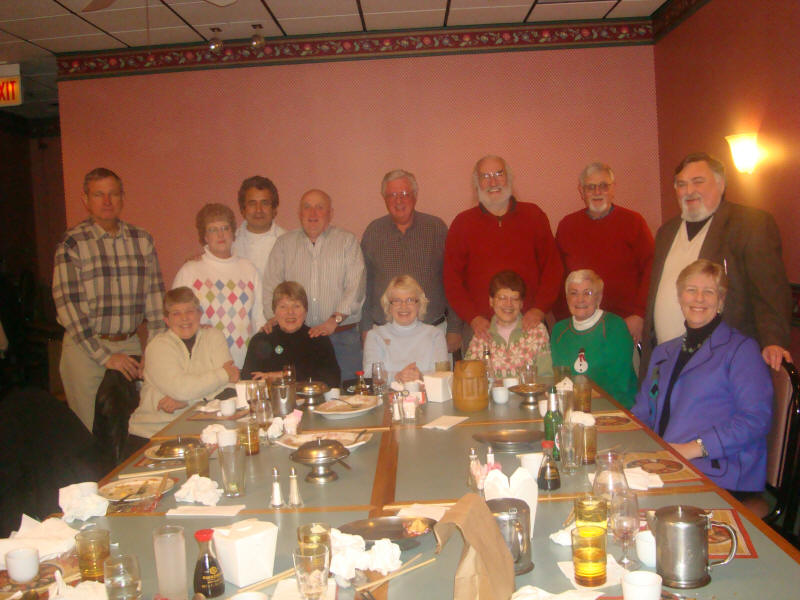 The Thomases, Bautistas Schaubs, Polaceks, Stacks, Ownbys, and Means
Thanks to Judy Thomas
Magic Wok Friday December 10th, 2004
Photos by Lou Cerrone
Rich & Anne Means, Guy & Elaine Schaub, Nancy Ely, Sandy & Frank Bautista, Sandra Clock Cody & Bill, Lou Cerrone, Dennis Holvay, Madeline Janes Smith, Ann Pritchard Mancione, Jason Crawford & Friend, Barb Viera Pearlmann, Joyce Jewel, Karen Kwake Graham, Hank Trenkle, John & Carole Polacek
"Hot" Magic Wok
La Grange, Illinois
September 12, 2003
Well, it was a hot time at the old Wok tonight!!! Twenty showed up for dinner. Unusual attendees were Ron Sheeley, Connie Pier, Dave Beckwith, and Nell Croft. The other sixteen were Cheri and me, Wayne and Judy Thomas, John and Carole Polacek, Rich Means and Anne Rooney, Sandy and Frank Bautista, Karen Kwake, Hank Trenkle, Madeline Janes Smith, and Jay Crawford with two friends.
....Mike Stack




Ron Sheeley, John Polacek
Dave Beckwith and Nell CROFT Grant


Madeline JANES Smith, Jay Crawford, Hank Trenkle, Karen Kwake, and
Carole Polacek


Connie Pier, Frank and Sandy STOLTZ Bautista, Wayne and Judy CLIME Thomas

Rich Means and Anne Rooney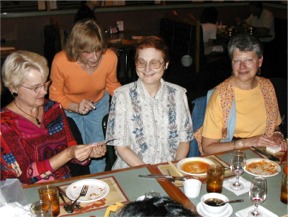 Carole Polacek, Karen Kwake,
Madeline JANES Smith, and Cheri Stack