McClure Jr High School 7-8
Western Springs, Illinois

McClure was the Jr High School for Grand Ave, Laidlaw, Forest Hills, Franklin, and Field Park.
Row3:Far right John Hefner - custodian
Row2: Miss Cappodano, Louise Mertes, Hilda Everett, ???, Ruth Jacoby, Yvonne Cusack
Row1: Helen Woods, Mrs. Wade, Howie Johnson, Barb Finlayson, Helen Domovich Eleanor Baum

Picture provided by Mrs. Zeman Of McClure 2004

Thanks to John Hattendorf

At the bottom of this page is a list of the above Graduates.

Row4:Wayne Chap, Tom Extrom, Fred Landefeld, Ken Rule, Steve Cheadle, John Pringle, Dick Lundin,Hank Trenkle, Reid Van Cleave
Row3: Keith Johnstone, Ken Worthwien, Bob Rohse, Jay Tressler, Curt Blang, Chuck Henning, Mr Stelmack
Row2: Ann Messick, Marcia Coogan, Jane Hibler, Barb Olsen, Miss Marilyn Kassner
Row1: Jane Anderson, Noel Hunt, Pat Nauman, Julie Cunningham, Sally Sawyer, Kathy Harders

Click on the unidentified pictures below, put your mouse on the face and you will get their names.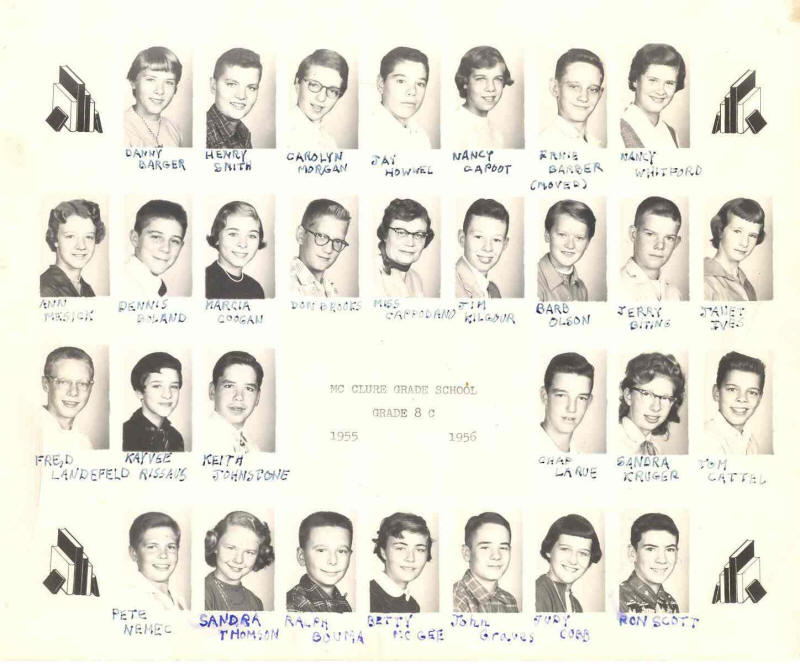 8th Grade C Miss Cappodano
Thanks to Henry Smith and John Graves
8th Grade E Mrs. Everett
Thanks to John Shankland

8th Grade G Miss Gift
Thanks to Ted Holz
Blank

Hank Trenkle
Joanne Mayor
Don Kloog
Joy Angier
Ken Rule

Kathleen Cushing

Alan Lammers

Blank

Rich Koenig
Julie Cunningham
Bill Stout
Pat Kavanaugh
Andy Olsen
Sandy Van Vuren
Dick Lundin
Carolyn Mitchell
Bob Rohse
Mary Beth Roy
Bob Swanson
Kristine Thompson

Blank

Diane Sterba
Ray Dockstader
Darlene Vincent

Blank

Sally Mott
Don Griffith
Paul Shoener
Chuck Henning
Dan Baldwin
Ron Finelli
Pat Deibel

Blank
8th Grade J Mrs. Jacoby
Thanks to Paul Shoener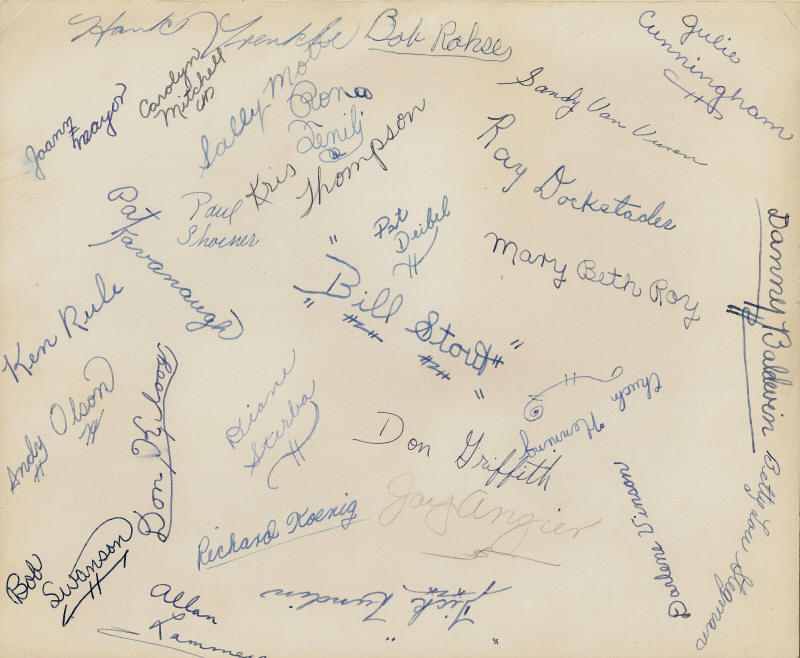 This interesting picture was donated by Al Lammers (Class 8J)
Blank
Donna Weller
Roger Heringa
Mary Carr
Doug O'Shel
Virginia Krickow
Ed Koerth
Cathy Wolledge
Blank
Melissa Monson
John Sandels
Ellen Mckitrick
John Paskavan
Mrs Cusack
John Gerberich
Pat Tatro
Bill Kaiser
Kathy Harders
John Pringle
Jane Anderson
Hank Mc/whoter
Blank
Curtis Blang
Irene Oke
Dave Erickson
Blank
Jay Tressler
Karen Johnson
Merilee Burke
Don Lupo
Sharon Murphy
Grace Johnston
Ken Bowen
Blank
8th Grade CU Mrs. Cusack
Thanks to Doug O'Shel
These 8th graders are not pictured.

| | |
| --- | --- |
| Jerry E. | ANDRLIK |
| Bill | BANER |
| Jim | BIDERMAN |
| Jim | BOND |
| Barbara June | CARY |
| Abbie B. | CHAPMAN |
| Edward Albert | COLE |
| Carolyn | DILLS |
| Ruth Lynn | FINLAYSON |
| John B. | HATTENDORF |
| Linda Jane | KENTNER |
| Gary Arnold | NORDMAN |
| Susan Lee | ROSS |
| Jeffrey F. | RUZICKA |
| Pat | RYAN |
| Betty Lou | STEGMAN |
The following list of McClure Students was kindly provided by Donna WELLER Boston.
| | | | | |
| --- | --- | --- | --- | --- |
| Num | | Class No. | First Name | Last Name |
| 1 | | 8G | Susan Adair | ADAMS |
| 2 | 7A | 8E | Edna Annette | ANDERSON |
| 3 | | 8CU | Jane Howard | ANDERSON |
| 4 | | | Jerry E. | ANDRLIK |
| 5 | 7A | 8J | Joy | ANGIER |
| 6 | | 8J | Dan William | BALDWIN, Jr |
| 7 | 7B | | Bill | BANER |
| 8 | | 8C | Ernie | Barber |
| 9 | | 8C | Diane ( Danni) Grace | BARGER |
| 10 | 7A | 8E | Linda Wooler | BERNECKER |
| 11 | 7A | | Jim | BIDERMAN |
| 12 | 7D | 8C | Jerome Dean | BITTING |
| 13 | | 8CU | John Curtis | BLANG |
| 14 | | 8C | Dennis Raymond | BOLAND |
| 15 | 7A | | Jim | BOND |
| 16 | 7C | 8E | Joe | Boshinsky |
| 17 | 7D | 8C | Ralph R. | BOUMA, Jr |
| 18 | 7C | 8CU | Kenneth (Ken) Alan | BOWEN |
| 19 | 7B | 8C | Donald G. | BROOKS |
| 20 | | | Diane Lynne | BRAUSH |
| 21 | | 8CU | Merilee Kaye | BURKE |
| 22 | 7B | 8g | Charles David | CANTWELL |
| 23 | 7C | 8C | ( Eileen) Nancy | CAPOOT |
| 23 | 7B | 8c | Charles Thomas | CATTELL |
| 24 | 7B | 8CU | Mary Anne | CARR |
| 25 | | | Barbara June | CARY |
| 27 | 7C | 8E | (Charles) Wayne | CHAP |
| 28 | | | Abbie B. | CHAPMAN |
| 29 | 7D | 8E | Stephen Lewis | CHEADLE |
| 30 | | 8C | Judith (Judi) Ann | COBB |
| 31 | 7B | | Edward Albert | COLE |
| 32 | | 8C | Marcia Jean | COOGAN |
| 33 | 7B | 8G | Donald Philip | COX |
| 34 | 7A | 8E | (Walter) Jason | CRAWFORD |
| 35 | 7D | 8J | Julie Ann | CUNNINGHAM |
| 36 | 7A | 8J | Patricia (Pat) D | DEIBEL |
| 37 | | | Carolyn | DILLS |
| 38 | 7D | 8G | Mary Jane | DIX |
| 39 | 7D | 8G | Kenneth (Ken) George | DIXON, II |
| 40 | 7D | 8J | Ray Richard | DOCKSTADER |
| 41 | 7A | 8C | James Andrew | (EDEN) KILGOUR |
| 42 | 7B | 8G | Mary R | EGLOFF |
| 43 | 7C | 8G | Bradly Irving | EPST |
| 44 | 7A | 8CU | David R. | ERICSON |
| 45 | 7D | 8G | Betty Jean | EULER |
| 46 | | 8E | Thomas (Tom) W. | EXSTROM |
| 47 | | 8J | Ronald (Ron) G. | FENILI |
| 48 | | | Ruth Lynn | FINLAYSON |
| 49 | | 8CU | John Albert | GERBERICH |
| 50 | 7B | 8C | John William | GRAVES |
| 51 | | 8E | Allan James | GRIFFIN |
| 52 | 7B | 8J | Donald | GRIFFITH |
| 53 | 7D | 8CU | Kathleen Carole | HARDERS |
| 54 | 7C | | John B. | HATTENDORF |
| 55 | | 8J | Charles (Chuck) W. | HENNING |
| 56 | | 8CU | Roger Edward | HERINGA |
| 57 | 7C | 8E | Harris Carl | HERTEL |
| 58 | 7B | 8E | Jane Ann | HIBLER |
| 59 | | 8G | Walter Ted | HOLZ |
| 60 | 7A | 8C | Jay E. | HOWELL |
| 61 | 7B | 8E | Noel S. | HUNT |
| 62 | 7B | 8C | Janet Lyon | IVES |
| 63 | | 8CU | Karen Jean | JOHNSON |
| 64 | | 8E | William Bryant | JOHNSON |
| 65 | 7D | 8CU | Grace Noel | JOHNSTON |
| 66 | 7D | 8C | J. Keith | JOHNSTONE |
| 67 | | 8E | Patricia Francis | JURCY |
| 68 | 7D | 8CU | Edward William | KAISER, Jr |
| 69 | 7D | 8J | Patricia Ellen | KAVANAUGH |
| 70 | | | Linda Jane | KENTNER |
| 72 | 7B | 8J | Donald (Don) Lee | KLOOG |
| 73 | | 8E | James (Jim) Lyle | KNIGHT |
| 74 | 7B | 8J | Richard (Rich) Walter | KOENIG |
| 75 | 7B | 8CU | Edward Louis | KOERTH |
| 76 | 7A | 8CU | Virginia Ruth | KRICKOW |
| 77 | 7C | 8C | Sandra Lou | KRUEGER |
| 78 | 7B | 8J | Allan H. | LAMMERS, Jr |
| 79 | 7B | 8C | Karl Frederick | LANDEFELD |

| | | | | |
| --- | --- | --- | --- | --- |
| 80 | | 8C | James Chap | LA RUE |
| 81 | | 8G | Linda Lenore | LARSON |
| 82 | | 8G | Gayle Anita | LEHNERT |
| 83 | 7D | 8E | Kathryn Ruth | LUKENS |
| 84 | 7C | 8J | Richard S. | LUNDEN |
| 85 | | 8CU | Don M. | LUPO |
| 86 | 7C | 8J | Joann Lynn | MAYOR |
| 87 | 7B | 8E | Warren L. | MC ALLISTER |
| 88 | | 8C | Sarah Elizabeth (Betty) | MC GEE |
| 89 | | 8CU | Ellen Carol | MC KITTRICK |
| 90 | 7C | 8E | Richard Kenneth | MEANS |
| 91 | 7C | 8G | Barbara Jane | MERTES |
| 92 | 7B | 8C | Ann Elizabeth | MESSICK |
| 93 | | 8J | Carolyn L | MITCHELL |
| 94 | 7D | 8CU | Melissa Louise | MONSON |
| 95 | 7A | 8C | Carolyn Ann | MORGAN |
| 96 | 7C | 8J | Sally Jo | MOTT |
| 97 | 7C | 8CU | Sharon Winifred | MURPHY |
| 98 | 7C | 8G | Robert George | NATZKE |
| 99 | 7C | 8G | Patricia Ann | NAUMAN |
| 100 | 7C | 8C | Peter Andrew | NEMEC |
| 101 | | 8G | Robert James | NEWMAN, Jr |
| 102 | | | Gary Arnold | NORDMAN |
| 103 | | 8CU | Irene Virginia | OKE |
| 104 | 7D | 8J | Andrew (Andy) Lindberg | OLSON |
| 105 | 7C | 8C | Barbara Ellen | OLSON |
| 106 | 7B | 8G | David A. | OLSON |
| 107 | 7C | 8G | Bill M. | ORR |
| 108 | 7D | 7D | Douglas Keith | OSHEL |
| 109 | 7A | | Sue | OWENS |
| 110 | | 8CU | John A. | PASKVAN |
| 111 | | 8E | Virginia Ann | PAUS |
| 112 | 7C | 8E | Anne C. | PERRY |
| 113 | 7C | 8E | Sandra Jean | PFLAGER |
| 114 | 7B | 8E | Mary Susanne | PLUMMER |
| 115 | | 8G | David E. | PRATT |
| 116 | 7D | 8E | Alan Curtis | PREBLE |
| 117 | | 8CU | John Robert | PRINGLE |
| 118 | 7A | 8C | Katheryn | REISSAUS |
| 119 | 7A | 8J | Robert (Bob) James | ROHSE |
| 120 | | | Susan Lee | ROSS |
| 121 | 7A | 8J | Mary Beth | ROY |
| 122 | 7A | 8J | Kenneth (Ken) John | RULE |
| 123 | 7C | 8G | John M. | RUTA |
| 124 | 7A | | Jeffrey F. | RUZICKA |
| 125 | 7A | | Pat | RYAN |
| 126 | | 8CU | John M. | SANDELS |
| 127 | 7B | 8G | Sally Jane | SAWYER |
| 128 | 7D | 8E | Todd W. | SCHINDLER |
| 129 | 7B | 8E | Susan Esther | SCHORLEMER |
| 130 | 7A | 8G | Mary Ann | SCHULTZ |
| 131 | | 8C | Ronald Stanley | SCOTT |
| 132 | 7D | 8E | John Norman | SHANKLAND |
| 133 | 7C | 8J | Paul Davis | SHOENER, Jr |
| 134 | 7D | 8E | Greta Lee | SHRINER |
| 135 | 7B | 8G | Susan Dee | SLIVKA |
| 136 | 7B | 8C | Henry A. | SMITH, III |
| 137 | 7A | 8G | Jean Anita | SMUTNY |
| 138 | | | Betty Lou | STEGMAN |
| 139 | | 8J | Diane N. | STERBA |
| 140 | | 8J | William Charles | STOUT |
| 141 | | 8J | Robert R. | SWANSON |
| 142 | | 8CU | Patricia Ann | TATRO |
| 143 | 7D | 8J | Kristine M. | THOMPSON |
| 144 | | 8C | Sandra Lee | THOMPSON |
| 145 | | 8J | Henry (Hank) | TRENKLE |
| 146 | | 8CU | Jay Howard | TRESSLER |
| 147 | 7B | 8G | Reid Harris | VAN CLEAVE |
| 148 | 7A | 8J | Sandra | VAN VUREN |
| 149 | 7D | 8G | Lawrence (Larry) C. | VAUGHAN |
| 151 | 7C | 8J | Darlene Anne | VINSON |
| 152 | 7C | 8G | Bruce Allen | WARDER |
| 153 | 7A | 8CU | Donna May | WELLER |
| 154 | 7D | 8E | James (Jim) Ray | WELLER |
| 155 | | 8C | Nancy Lee | WHITFORD |
| 156 | 7A | 8E | Joseph (Joe) Anthony | WIRTES |
| 157 | | 8G | Kenneth Ford | WOERTHWEIN |
| 158 | 7A | 8CU | Catherine S. | WOOLEDGE |