Little Rock, Arkansas
John Graves and His Students
Anti-War Peace Rally and March
March, 2003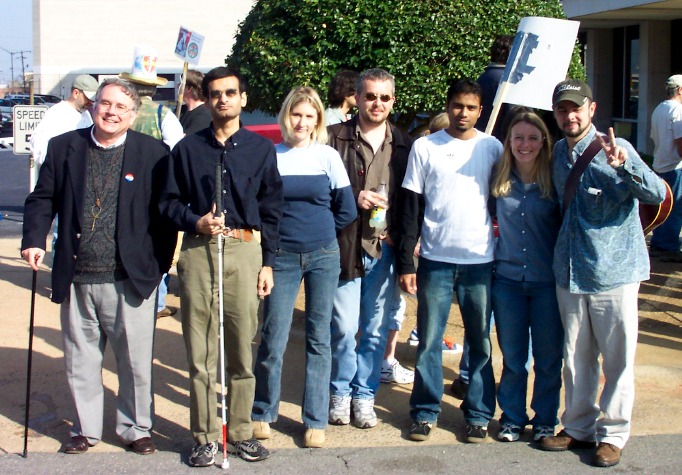 Professor John Graves and his students
Alexandria, Virginia
September, 2003
Judy Torres Hall and Doug Wade
Here is a picture of Judy Torres Hall and me taken at the marriage enrichment workshop that she and her husband Jim conducted on September 13. It was the first time that Judy and I had seen each other since we graduated. Judy and I grew up just a few blocks apart and went to Oak School together. A few years ago Jim conducted the funeral service for Bonnie Glick.
.....Doug Wade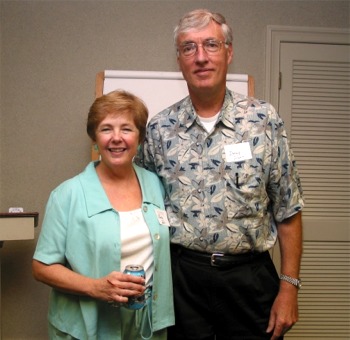 Judy Torres Hall and Doug Wade
Palo Alto, California
May 2003
Donna Weller Boston, Lou Slebos, and Sandy Stoltz Bautista
Here is a photo taken when Sandy, Lou, and I met at Stanford Mall near Stanford University. Sandy was in town with her husband, Frank, to attend her stepson's graduation from Stanford Law School. Lou and Sandy were friends in college and have kept in touch. Lou lives in nearby Los Gatos, California. We had a wonderful visit over brunch. We talked and talked and talked...and showed pictures of grandchildren and talked some more. The poor waiter thought we were never going to leave.
....Donna Weller Boston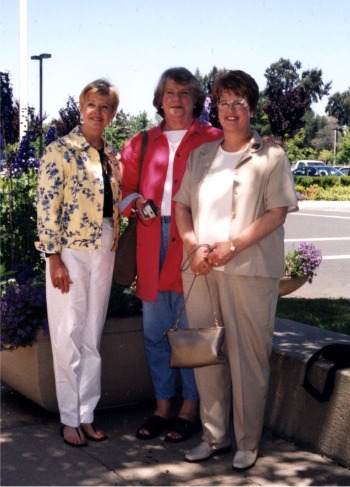 Donna Weller Boston, Lou Slebos McIntyre, and Sandy Stoltz Bautista
San Francisco, California
December 2002
Sara Bodlak (Sally Sawyer) and Donna Weller Boston
Here is a photo of Donna Weller Boston and me, Sara (Sally Sawyer) Bodlak, when she and I got together at the Palace Hotel in San Francisco last Christmas.
...Sally Sawyer (Sara Bodlak)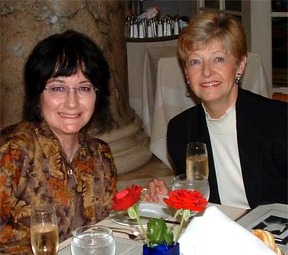 Sara (Sally Sawyer) Bodlak and Donna Weller Boston
Clear Lake, Indiana
Summer, 2003
Rob and Char TETIK Ekroth
We have had a summer home in Clear Lake for about 20 years. All three of our kids have grown up learning about boats, water sports, and the joys and responsibilities of second homes (well water, septic fields, bats in the home, boats not working, how to water ski, tube, swim, sail, put in and take out piers, make friends, etc. etc. Every year we have a "family meeting" when the kids pick weekends for themselves and their friends to enjoy the lake without the Fossils being around. They learn to cut the grass, leave gas in the boat, and beer in the 'frig or Dad gets irritated. Everyone enjoys it and everyone accepted the responsibility that goes along with it. Having access to a home on a lake is something that I grew up with and it's nice to pass that along to our kids who all really seem to enjoy it.
More interesting news, Char and I became grandparents for the first time last Thursday (Sept 4). Our oldest, Debbie, gave birth to twins, Conner and Ashley, with both babies weighing in at over 6 lbs (Deb is only slightly larger than Char). Everyone is doing fine and the babies come home from the hospital today. Everyone is playfully accusing Deb and Erik, her husband, of planning this so they don't have to go the the lake to help take out the pier. Gramps has given them a pass this fall, but they will be expected to help open the home next spring. After sending three kids through college, I may never retire!
.....Rob and Char TETIK Ekroth

Char TETIK Ekroth
So..., that's what they do
for summer fun!!!

Rob Ekroth
Both of them still in great shape
and fine form!!!
Oburnberg, Germany
July, 2003
Doug Wade and Terry Johnson
Here are a few pictures from a trip to Germany to visit Terry and Inga Johnson. He lives in Oburnberg which is a small town near Aschaffenburg. Terry and Inga spent three days driving us around the areas to a wine festival; a boat trip on the Main; visits to Wurzburg, where Inga grew up and he currently works, and to Rothenburg, as well as several other locations. After three days, we took the train to Paris where we visited with some neighbors who are working there for the summer.
.....Doug and Meredith Wade
| | | |
| --- | --- | --- |
| Meredith and Doug Wade in front of Mespelbrunn ("the water castle") | | Doug Wade, Terry and Inga Johnson in Rothenburg, Germany |
| Inga and Terry Johnson are on the deck of a boat from Miltenburg to Wertheim. | | The hunting lodge near Aschaffenburg, Germany was built by a local baron and is called the water castle because of a moat surrounding it. |
Washington, DC
August, 2003
Doug Wade and Mike Stack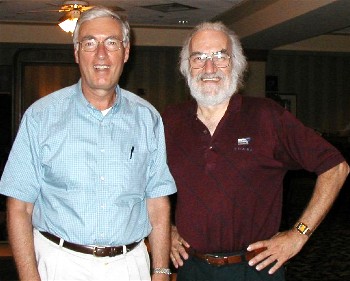 13th Annual Skokie Festival of Cultures
Bill and Sandy KLOCK Cody
May 2003
Here is a new "Scottish" type photo of my husband Bill and me at the 13th Annual Skokie Festival of Cultures in May of this year. We're on the planning committee for the festival eight months of the year, then have a Scotland booth for the two days of the festival, and also put on a Scottish country dance performance with our demo team one of those days -- then we collapse for about a week!!
.....Sandy KLOCK Cody